Kik
15.27.2.22736
Kik Messenger, the free alternative
You wake up in the morning and do your routine as always, not expecting anything special to happen. You go to work (or whatever you do during a day) and think that today is just like any other day. Nonetheless things are meant to change. You see, fashion revolves, cars become rounder, governments topple from time to time and even borders are redrawn, if not for laughs at least to gain important strategic advantages. So just about when everybody thought mobile phone instant messaging was in its stable form, in comes Kik, kicking down the door (pun definitely intended). It's also bringing free beer.
Add-on land
Kik Messenger is special. Although it is quite similar to others, it also has a certain je sais quoi, and I'm going to tell you. It comes with a built in browser and is totally free. Yes, if you would be so damn cheap that you wouldn't give a buck per year for an app that does the exact same thing, then you would already be jubilating instead of reading this inadequately long sentence. For the ones concerned about privacy, I'm happy to announce that Kik Messenger does not ask for your phone number. It can still read your contact list though.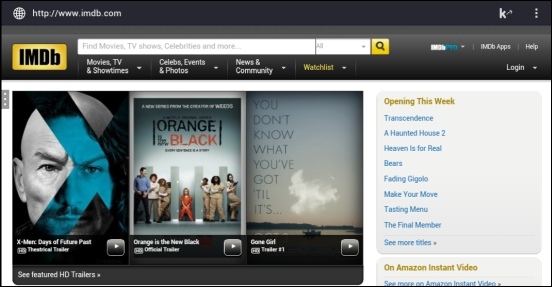 Leaving direct comparisons behind, it's time to see how Kik Messenger stands up on its own. The big thing it prides itself with is that it carries a browser in its innards. The main reason for including oneis that you no longer have to minimize the app to view a web page. Imagine how much time is saved by not pressing the home button a couple of times! It is truly a marriage between reason and technology. Regarding its features, unfortunately Kik's browser is at the foetus level. It has absolutely nothing more than a share to conversation button and an address bar. Sharing with the button does confer the link a better treatment than if it would be supplied raw. Instead of an underlined text sausage, the page is presented in a clean frame with a title.
Add-on land
The absolute best part of Kik Messenger are the add-ons. Made by a growing tribe of enthusiastic developers, these add-ons are legion, and range from marginally useful to corny. Do you want to doodle while chatting? No problem. Would you like to deliver your witty lines as customized internet memes? Perhaps you would like to guide Flappy Bird through the Mushroom Kingdom* again. It's already covered. There are also add-ons that allow you to chat with strangers and a way to share pictures pith a display timer if you want to avoid them becoming viral. This add-on extravaganza can be accessed by tapping "More", and is a sure way to forget that Kik is primarily a messenger.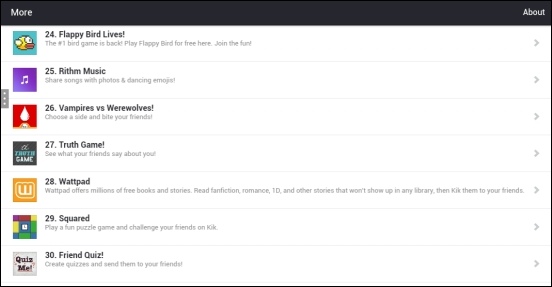 Features
Built in browser - You can share addresses directly into conversations
Add-ons – An already impressive and diverse add-on library
Typing notifications – It tells you when others are typing so you can keep calm and wait
The redeeming part of the Kik browser is that it allows to open its current address with your regular browser app.
Pros
It's Free! Unlike WhatsApp, Kik will never charge you or ask for a paid subscription.

It has a huge library of add-ons. It has enough silly things that you probably won't get bored soon (if you enjoy them that is)

Using the built in browser is more comfortable than not having it. Admitted it isn't much but it is quite comfortable for checking a picture link for example.
Cons
The browser, although functional, is extremely basic
Need to use Kik messenger on your desktop computer? See the video tutorial below on how you can do just that:
Conclusion
At its heart Kik Messenger is very straightforward. You can enhance your conversations with whatever add-on you wish but the main bonus is the fact that Kik is a free alternative to WhatsApp Messenger. The browser feels like an afterthought and it will probably only be enhanced once the messenger's popularity increases.
Kik Messenger is a mobile application available currently for Android, iOS and Windows Phone. It doesn't have a version for desktop PCs, however if you want to use Kik Messenger for desktop or laptop you'll need to use an Android emulator such as Bluestacks.
*It has been established that it is not the Mushroom Kingdom but a similar realm with green pipes sticking out of the ground… and out of the air.
---
Add a review
Tell us your experience with
Kik
15.27.2.22736
RELATED PROGRAMS
Our Recommendations
---
---
---
---